SUSTAINABLE - ECOLOGICAL - ENVIRONMENTALLY FRIENDLY - COZY SOFT
Organic Cotton
SOFT FINE FABRICS FROM SUSTAINABLE PRODUCTION
Organic cotton of the highest quality
Organic cotton is special in several ways. Their share of world cotton production is just 0.7%. Nevertheless, it has considerable potential from an ecological and even social perspective. When growing organic cotton, significantly less water is used; the soil is more fertile because of the organic fertilizer and can store more water. Additional plants grown bind pests and increase biodiversity (including the insects on them). No pesticides against pests and no chemicals are used as fertilizers. As a result, the farmers do not come into contact with the poisons. Because of the quality and the amount of handwork, organic cotton has a high value. The farmers' earnings are also higher and their social situation changes for the better. And last but not least: Organic cotton is just as soft and high quality as conventional cotton, if not a little better.
THE GIZA COTTON FROM THE NILE DELTA
The highest quality deserves its price
Long soft fibers
Very stable and durable
Finest fabrics possible
Maximum comfort
Absorbent for great colors
No chemical residues
Grown in an environmentally friendly manner
No contamination whatsoever
Free from allergens
Only picked by hand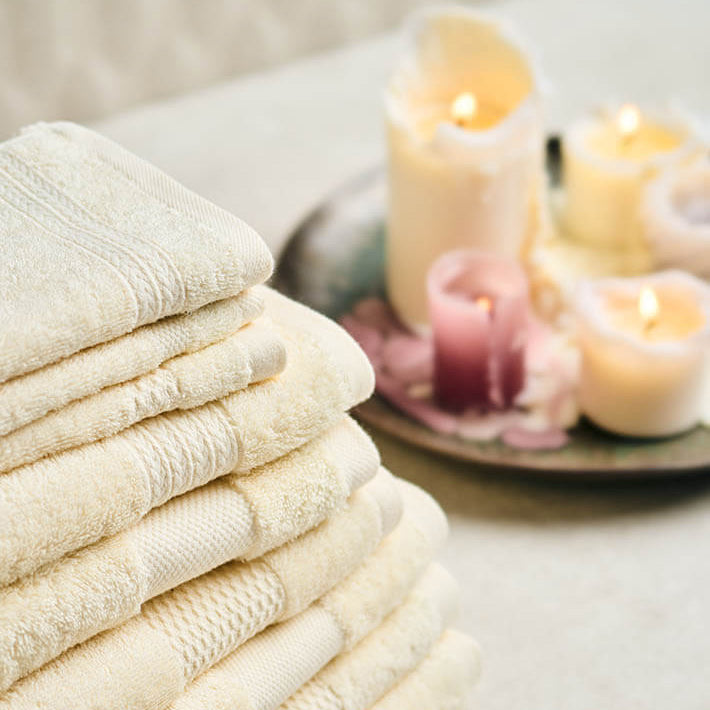 POSITIVE IMPACT OF GROWING ORGANIC COTTON
THE QUALITY OF THE SOIL IS IMPROVED
Using organic fertilizer improves the fertility and consistency of the soil and thus its ability to store water. Additional plants are planted next to or between the organic cotton.
On the one hand, it binds pests, also improves the soil and, with sunflowers and beans, is an additional profitable harvest for the farmers. There are also many insects on the additional plants.
By rotating crops in the cotton fields, the soil is not one-sidedly depleted, but rather is provided with new nutrients and organic substances for subsequent cultivation.
Share of less than 1% of global cotton cultivation
Grown according to organic farming guidelines
No use of pesticides or chemical fertilizers
No use of genetically modified plants
Certified by GOTS (worldwide) and IVN (German) seals
Does not automatically mean organic textiles (pay attention to textile seals)
Better soil fertility through organic fertilizer and crop rotation
Increasing biodiversity through mixed cultivation (plants, insects)
Significantly lower water consumption (soil stores more water)
General shortage of seeds for organic cultivation
Basically only harvested by hand (fibers undamaged)
No chemical defoliants necessary (as with machine harvesting)
Doesn't mean fair trade, but improves small farming structures
Protecting farmers because they are not contaminated with poisons
Protection of consumers, no heavy metals and chemicals on the skin
HOW YOU CAN IDENTIFY ORGANIC COTTON
These seals guarantee Organic Cultivation

THE KNOWN SEAL OF GOD
GOTS is a worldwide and recognized textile seal, it stands for Global Organic Textile Standard and guarantees the sustainability of the textiles. This includes the organic cultivation of the raw material (in this case organic cotton) as well as the social and ecological aspects of production (including further processing). Regularly announced and reviewed unannounced.
THE BEST OF THE GERMAN IVN
The BEST from the IVN is an organic seal that is valid throughout the EU. It is published by the International Association of the Natural Textile Industry (IVN). It stands for the environmentally friendly and socially responsible production and processing of natural fiber textiles. When dyeing and printing fabrics, only substances that are harmless to health and the environment may be used.

CONTROLLED ORGANIC CULTIVATION
The label "controlled organic cultivation (k.b.A.)" is only awarded if the basics of organic farming are adhered to. This is checked once a year. For producers in Asia, Africa and Latin America, companies must disclose production methods and flows of goods. Here this guarantees the self-organization of small farmers.